It's Allspice week here at That's What SHE Crafted.

Our very own Karly came out with her sophomore pattern "The Allspice" under her pattern company Paisley Roots.

We decided to spotlight this pattern because we are fine with shameless friend promotion.

It means more Christmas present for us when she becomes a millionaire and Crystal's broke and

in prison for being sarcastic with the president or something.

Anyway...THE ALLSPICE! Here's a pic of all 4 versions sewn by Karly, herself: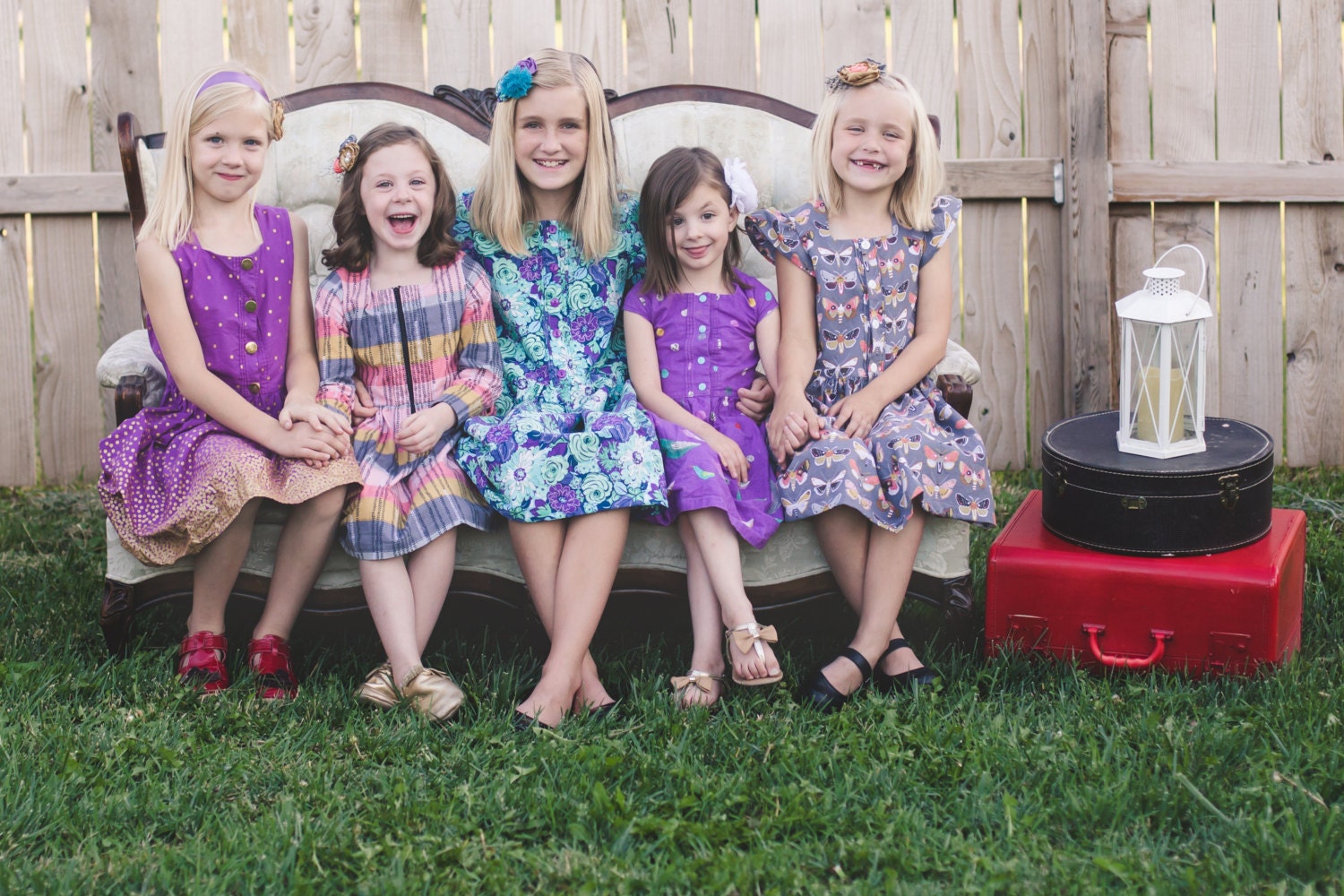 Here's the description from her Etsy listing because we're too lazy to write a new one:

"

The All Spice dress features a square-neck with 2 different closures for the front: Button or Zipper. Back is completely closed. It also comes with 4 sleeve options: Flutter, Sleeveless, Cap and Long sleeve. This dress is perfect for all seasons and has a size range that stands from baby to tween!
It comes in 11 sizes:
6-12 mos.
12-18 mos.
2T
3T
4T
5
6
7
8
10
12
Skill level: Advanced Beginner - Skills used for this pattern *zipper, *buttons, *pintucks and a lining.
(closure is optional depending on preference and pintucks are optional.)
Pattern comes with a full tutorial and color photos in an easy to print PDF.

"
Man, that was hard work to write.

...er copy and paste

;)
Since each sleeve option represents a season, we're starting with Autumn.

The cap sleeve version is perfect for the Autumn weather. It's great for layering with a pretty cardigan and pairs well with boots and tights (or, you know, tennies). We
would also like to point out that the Allspice is great for school. Crystal's girl has worn 3 of them to school already on non-P.E. days.
They're easy to dress up or down depending on your girl's personality and taste. The lines are super classic and pintucks never go out of style. Your kid will look fab while scarfing down a pumpkin muffin and drinking a pumpkin spiced cocoa while at the pumpkin patch full of pumpkins.

We really miss Autumn. It's almost here, though, so get your Autumn Allspice on!

-The SHEs-